CENTRALIGN Ultra Standard
Precise, fast and intuitive bore alignment
Bore alignment in combustion engines, compressors, pumps, gearboxes and stern tubes
⊕  True bore center measurement: Determination of the eccentricity error
⊕  Patented universal pointer brackets with rotating sensor holder improve measurement precision and handling
⊕  Measurement of both magnetic and non-magnetic bores with diameters ranging from 45 mm to over 4000 mm
⊕  Ease of handling, lightweight components and measurement methods to suit specific applications
⊕  Precise user-independent measurements and results
⊕  View the minimum corrections required
⊕  Convenient wireless data transmission.
---
CENTRALIGN Ultra Standard is a precision laser bore alignment system which is fast, very precise, and provides a clear measurement protocol, unlike traditional methods.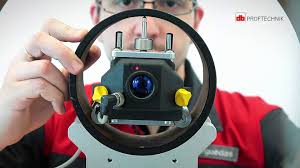 As measurements are carried out using a laser beam and patented universal pointer brackets, mechanical and sag errors are eliminated. The rotating sensor holder makes the measurement procedure so much easier as there is no need to reposition the sensor to take the various measurements. Our pointer brackets are also suitable for a range of bore diameters.
In addition to the alignment of bores, bearing pedestals and other circular machine elements, CENTRALIGN Ultra Standard also includes a measurement method for the alignment of workpieces to boring heads.
The system utilizes the proven ROTALIGN Ultra platform, and is therefore extendable to shaft alignment, flatness, straightness and other geometrical applications.